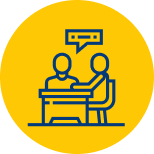 Understand. Analyze. Perform.
At EZDynamic, we understand that driving business growth and profitability is the raison d'etre of all businesses. We collaborate with you to gain a 360⁰ understanding of your business and partner with you to define your business strategy, aligned with your business goals.
Organisational Strategy
Functional Strategy
Growth Strategy
Business Performance
Process Optimization
Competitive Analysis
Organizational Effectiveness
Clear articulation and communication of your strategic plans ensures stakeholder buy-in and emotional investment, their accountability, and a commitment to deliver across the organization. To achieve this, we:
Perform an organization structure deep-dive.
Make recommendations for operational efficiencies and stakeholder engagement.
Identify opportunities to turnaround slow-to-adapt groups.
Offer tailored processes that are decisive, effective and suited to your unique needs.
In a global business environment, it is imperative to create business processes that are easy to integrate and implement, manageable and easily documented. This allows you to use actionable information and understand how well your processes are functioning to drive business impact. We can:
Uncover Systemic Enhancement opportunities.
Drive the execution of Process Optimization enhancements.
Provide Process Maps.
Help identify areas for improvement.
We collaborate with you to improve your business performance – helping you achieve enterprise-wide transformation or make key functional changes. Our approach is sustainable, consistent and employs a broad range of disciplines, including:
Performance Management
Performance Reporting
Process Transparency
Promotion of Key Value Drivers
We can do an in-depth analysis of your market & competitive environment to give you an unbiased view, which will help you make informed decisions by:
Assessing Competition
Reviewing Market Trends
Identifying Process Gaps
Our experts will help you overcome business challenges. We improve business performance and processes with our effective and impactful initiatives.
"The essence of strategy is choosing what not to do."
– Michael Porter
Get in touch with our team for your Business Strategy requirements.