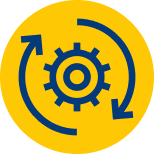 Reform. Perform. Transform.
Change management is critical to managing programs, implementing new processes and technologies, or updating policies and procedures. We can guide you in planning, leading, and managing transformation, be it firm-wide or at a functional level. Change rarely occurs in isolation and should be an essential part of your strategy to adapt and maintain a competitive edge. We can help you implement change that results in lasting transformation.
Strategic Change
Remedial Framework
Enterprise-wide Impact
Program Management
Analysis & Design
Process Governance
Reporting
Training Framework
Program-Project Management
A successful and sustainable program requires a clear understanding of business objectives, optimal use of resources, and effective management of tools and methodologies. We leverage our experience in delivering mission-critical initiatives to ensure you achieve your vision of success. This is done through:
Transparent strategic and tactical planning
Structured governance and controls
Stakeholder buy-in
Timely reporting and key metrics development
Execution, delivery, and sustainability alignment
Business Analysis & Design
Business analysis is key to identifying requirements and determining the right set of solutions, and addressing questions, weaknesses, and opportunities. We provide you with this capability, working as liaisons between business users, IT experts, and key stakeholders. We employ a full-spectrum requirements approach – requirements planning, requirements elicitation, requirements analysis, and documentation. Effectively, this lays the groundwork for clear communication to align with changes to your business processes, policies, and information systems. Our approach allows for an accurate assessment of business needs and provides critical support during project implementations through:
Business Requirements Analysis
Effective Requirements and Process Documentation
Data Mapping and Management
Testing & Training Framework
Change management is incomplete without a robust testing and training framework that allows you to contain issues and offer training to adapt to new processes and functions. We will incorporate a testing methodology at different stages during the lifecycle to capture trends, mitigate risks, and guide your testing to meet your success criteria. We can help:
Manage Tests Execution
Develop Testing Governance
Create Training Framework
"The secret of change is to focus all of your energy not on fighting the old, but on building the new"
– Socrates
Get in touch with our team to work with you to manage your change initiatives.