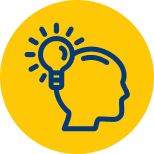 We will partner with you to define your business strategy and arrive at solutions. We will do so using proven approaches honed over years of experience. We initiate and drive technology innovation, and ensure that your strategy has optimized processes.
Organizational Effectiveness
The successful outcome of your goals depends on the clear articulation and communication of your strategic plans, tied to accountability and a commitment to deliver across the organization. Partner with us so we can:
Offer tailored processes that are decisive and effective
Organization structure deep dive
Make recommendations for operational efficiencies and stakeholder engagement
Identify opportunities to turnaround slow-to-adapt groups
Technology innovation is the key to successful execution of your strategy. To accelerate growth in a scalable and robust environment, we collaborate with businesses and technology to explore every opportunity to enhance systems and processes. Our range of experience covers:
Evaluation of existing applications and implementation of new or improved technology
Electronic Trading Systems
Order Management and Execution Management Systems
Post Trade Reporting
Key Operational Systems
In a global business environment, it is imperative to create business processes that are manageable and well documented. This allows you to use actionable information and understand how well your processes are functioning. We can:
Help identify areas for improvement
Provide process maps
Uncover systemic enhancement opportunities
Drive the execution of process optimization enhancements
Need a complete strategy pivot or technology systems overhaul?
We can help. Find out how