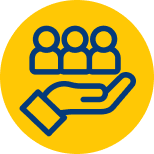 Ease. Productivity. Edge.
EZDynamic can help you find experienced professionals to grow your team. Our industry knowledge and vast network of experienced professionals allows us to find resources, contract or full-time, with the skills you require. We will work to solve your short-term or long-term staffing requirements and ensure that we provide the best talent with the right fit for your organization.
Staff augmentation offers you a flexible and cost-effective model that comes without the overhead of searching, interviewing, and on-boarding resources yourself. This model gives you access to experienced professionals with diverse skill-sets, without taking on the burden yourself.
Contingent Staff – Time And Material Or Fixed Price
Direct Placement
Candidate Matching
Ensure Quality & Credentials
Onboarding Assistance
Flexible Model
Access Niche Skillset
Industry Knowledge
We leverage our experience to identify program-project management experts to help with your staffing needs. We can provide resources with extensive experience in technology implementations, regulatory remediation, PMO, and generalist roles.
Available Jobs
Business Analysis Leaders
Effectively managing and instating business analysis capabilities for our clients gives us a first-hand view of what to look for in a business analyst. Business Analysts are diligent thought leaders and we are confident we can source the thought leader you need to meet your requirements.
Available Jobs
We work with technology experts who have a breadth of experience across a broad range of disciplines and are geared towards innovation. They come equipped with the skills to get involved at any stage of design, development, deployment, upgrades, and migrations, focused on your specific needs. Our goal is to ensure we set you up with professionals who improve productivity and align technology with your business goals.
Available Jobs
Do you need Contractors or Full-Time Employees?
As industry practitioners, we are perfectly placed to help you add skilled and qualified professionals to your team